HOME BUILDERS & RENOVATORS

Yes, it's true that costs spiral upwards in never ending cycles while wages and salaries seem to hover at much the same levels.
We combat this by building smarter, using better methods, newer options for materials and proposing environmentally efficient designs. A well designed project will cost less to maintain after completion.
A great job doesn't necessarily mean a big price. Jarrah Homes' design knowledge and building skill makes your dollar go much further.
HIGHEST QUALITY AT LOWEST PRICES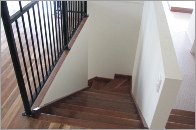 Jarrah Homes' friendly team strives to make all clients happy. throughout the building process and well afte

r completion.
We ensure that you recall your building venture with total delight and confidence.


We offer sound advice from the very start, the design stage when it counts most. We are Design and Building experts.
You need not spend outside your means. We'll work with you to make your dream become a reality.
MINIMUM - 6 STAR ENERGY RATED
All new work carries a minimum of Six Star Energy Efficiency Rating.


G.R.Draper, QBCC Lic. 22713